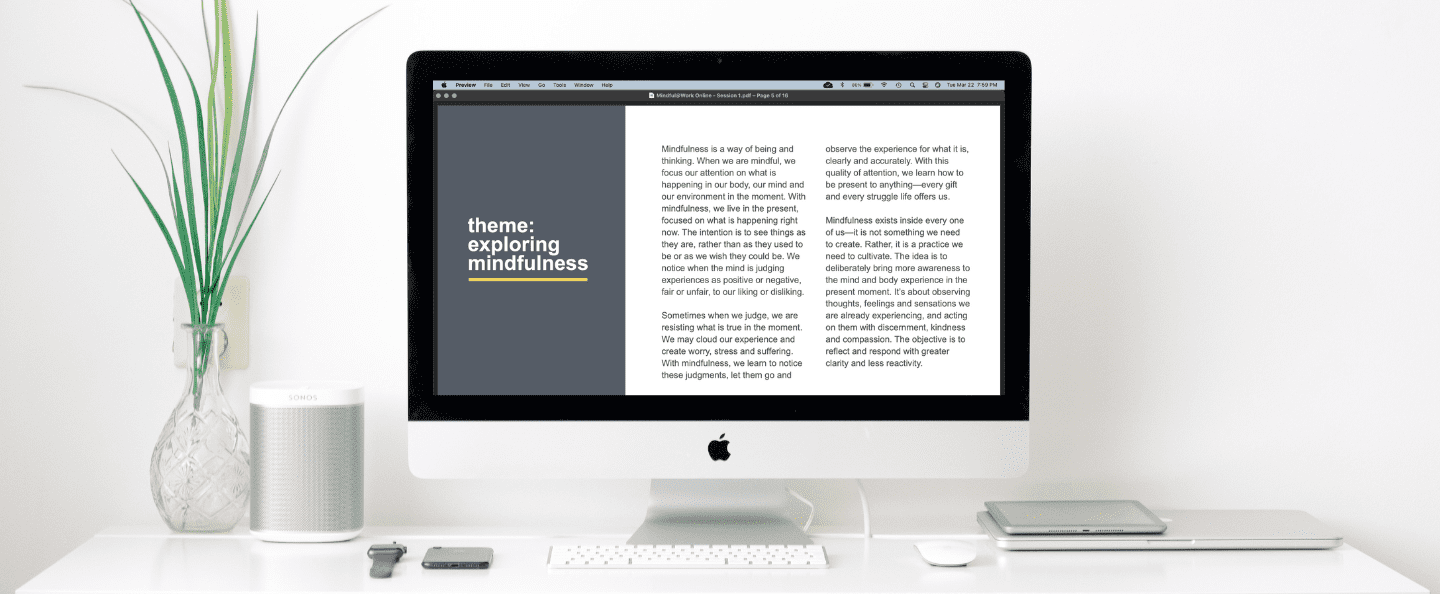 "Resilience isn't all or nothing. It comes in amounts. And no matter how resilient you are today, you can become more resilient tomorrow."
Karen Reivich
WORKPLACE WELLNESS
To support you in creating a culture of workplace wellness in your organization, business or institution, I offer a program called Mindful@Work, which can help build resilience and adaptability, cultivate connection and community, improve clarity and focus, and reduce stress and anxiety.
Mindful@Work is an 8-session evidence-based secular mindfulness and social emotional learning (SEL) program designed by Mindfulness Without Borders (a leading provider of evidenced-based programs).
During the 8-session program your staff, group or team will:
THE MINDFUL@WORK PROGRAM INCLUDES
This 8-session program can be delivered online (via Zoom) or in person. Custom sessions are also available. I have over 30 years experience facilitating dynamic, experiential and meaningful group experiences, and would love to discuss your specific needs!
Please CONNECT if you have questions or would like more information.
from MINDFULNESS WITHOUT BORDERS
"Social emotional learning (SEL) refers to the core competencies that, when put into practice, help us better understand and manage emotions, set and achieve goals, feel and show empathy, develop and maintain healthy relationships, and make ethical decisions. Mindfulness is a practice that involves focusing attention on the present moment while acknowledging and accepting feelings, thoughts and bodily sensations without judgment. With this quality of attention, we learn to be more connected to what is happening in the moment, just as it is. Mastering these soft skills helps us develop a compassionate understanding of ourselves and others and, in turn, leads to greater personal and societal well-being."