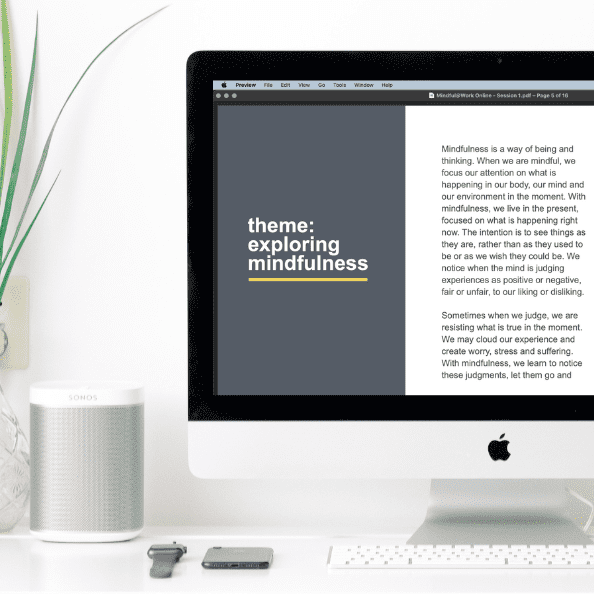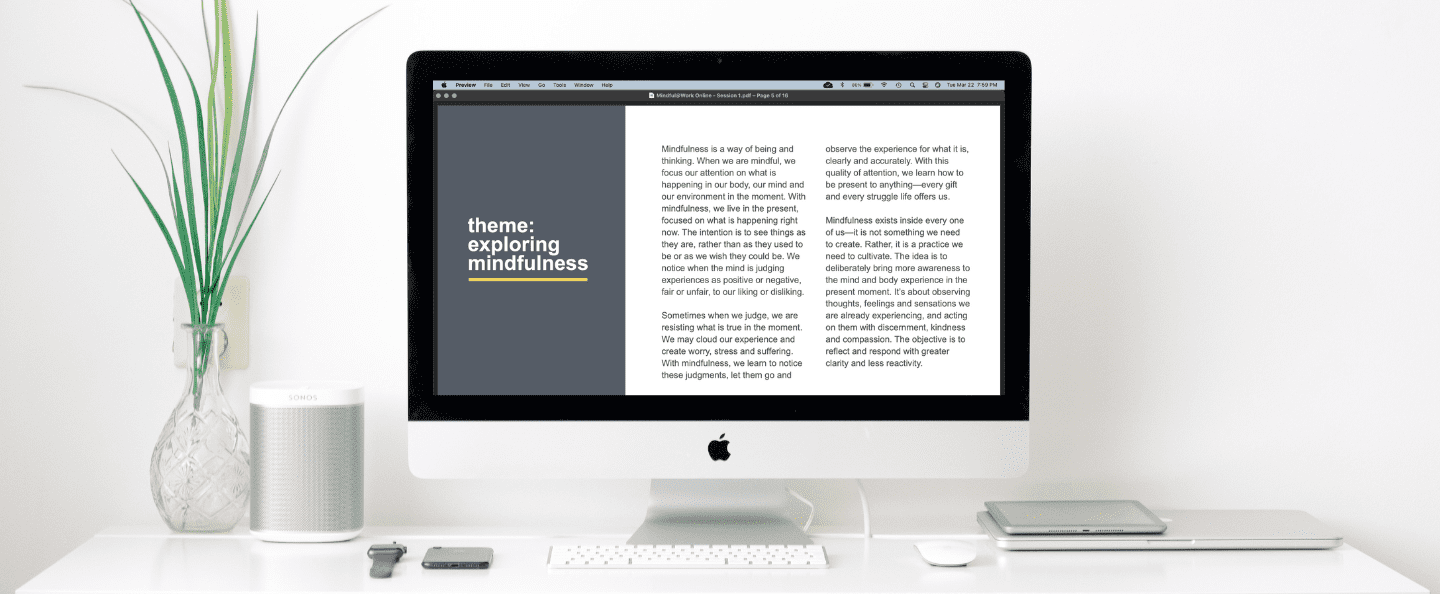 "Resilience isn't all or nothing. It comes in amounts. And no matter how resilient you are today, you can become more resilient tomorrow."
Karen Reivich
MINDFUL@WORK
To support you in creating a culture of workplace wellness in your organization, business or institution, I offer a program called Mindful@Work, which can help build resilience and adaptability, cultivate connection and community, improve clarity and focus, and reduce stress and anxiety.
Mindful@Work is an 8-session evidence-based secular mindfulness and social emotional learning program designed by Mindfulness Without Borders (a leading provider of evidenced-based programs).
During the 8-session program your staff, group or team will:
The mindfulness sessions Heidi brought to our workplace helped us to connect together as staff in a meaningful and relaxing way. She gave us tools to bring our awareness into the present moment that we are using in our day to day lives. Our work can be challenging and it has been extremely useful for us to acquire new skills so that we can be more present for our community. Thank you Heidi!
– Sophie Bérubé, Valley Community Learning Association
Bringing Heidi in to support the Wolfville Children Centre staff on their journey to group connection and communication before and during the COVID pandemic was one of the wisest decisions I have made in my career. We continue to use her inspirational quote cards and daily intention cards at the beginning of our staff meetings as a way to bring the group together to communicate with more ease and positivity. Thank you Heidi! We hope to have you back again real soon!
– Laurie St. Amour, ED Wolfville Children's Centre
THE MINDFUL@WORK PROGRAM INCLUDES
This 8-session program can be delivered online (via Zoom) or in person. Custom sessions are also available. I have over 30 years experience facilitating dynamic, experiential and meaningful group experiences, and would love to discuss your specific needs!
Please CONNECT if you have questions or would like more information.
Becoming more mindful in everyday life helps me to be more grounded and purposeful in my day to day activities. I feel more productive and alive when I bring mindfulness with me. It's like I have a more solid tool box to work with.
– Karen, session participant
I feel like it did two things for our team: 1. brought us closer to each other, and 2. gave us a language to help each other continue the practice. I am so hopeful that more and more workplaces will be filled with co-workers who practice mindfulness and compassion in their day-to-lives and interactions with others.
– Lisa, session participant
I enjoyed the style of the sessions. Your facilitation formed the basis of each new skill or discussion while allowing us to explore and share, knowing you were on the other end to ground it all with clarity and empathy.
– Donna, session participant
I loved it all. Heidi is an exceptional facilitator with an open, inviting style. She includes her warm personality without overshadowing others. This builds a community of trust and authenticity. She has a unique way of drawing people into greater awareness of the topic at hand, through their own exploration and perspective.
– Karen, session participant
Becoming more mindful in everyday life helps me to be more grounded and purposeful in my day to day activities. I feel more productive and alive when I bring mindfulness with me. It's like I have a more solid tool box to work with.
– Karen, session participant
I enjoyed the style of the sessions. Your facilitation formed the basis of each new skill or discussion while allowing us to explore and share, knowing you were on the other end to ground it all with clarity and empathy.
– Donna, session participant
I feel like it did two things for our team: 1. brought us closer to each other, and 2. gave us a language to help each other continue the practice. I am so hopeful that more and more workplaces will be filled with co-workers who practice mindfulness and compassion in their day-to-lives and interactions with others.
– Lisa, session participant
I loved it all. Heidi is an exceptional facilitator with an open, inviting style. She includes her warm personality without overshadowing others, and gives encouraging feedback on comments made by participants. This builds a community of trust and authenticity. She has a unique way of drawing people in to greater awareness of the topic at hand, through their own exploration and perspective.
– Karen, session participant
from MINDFULNESS WITHOUT BORDERS
"Social emotional learning (SEL) refers to the core competencies that, when put into practice, help us better understand and manage emotions, set and achieve goals, feel and show empathy, develop and maintain healthy relationships, and make ethical decisions. Mindfulness is a practice that involves focusing attention on the present moment while acknowledging and accepting feelings, thoughts and bodily sensations without judgment. With this quality of attention, we learn to be more connected to what is happening in the moment, just as it is. Mastering these soft skills helps us develop a compassionate understanding of ourselves and others and, in turn, leads to greater personal and societal well-being."