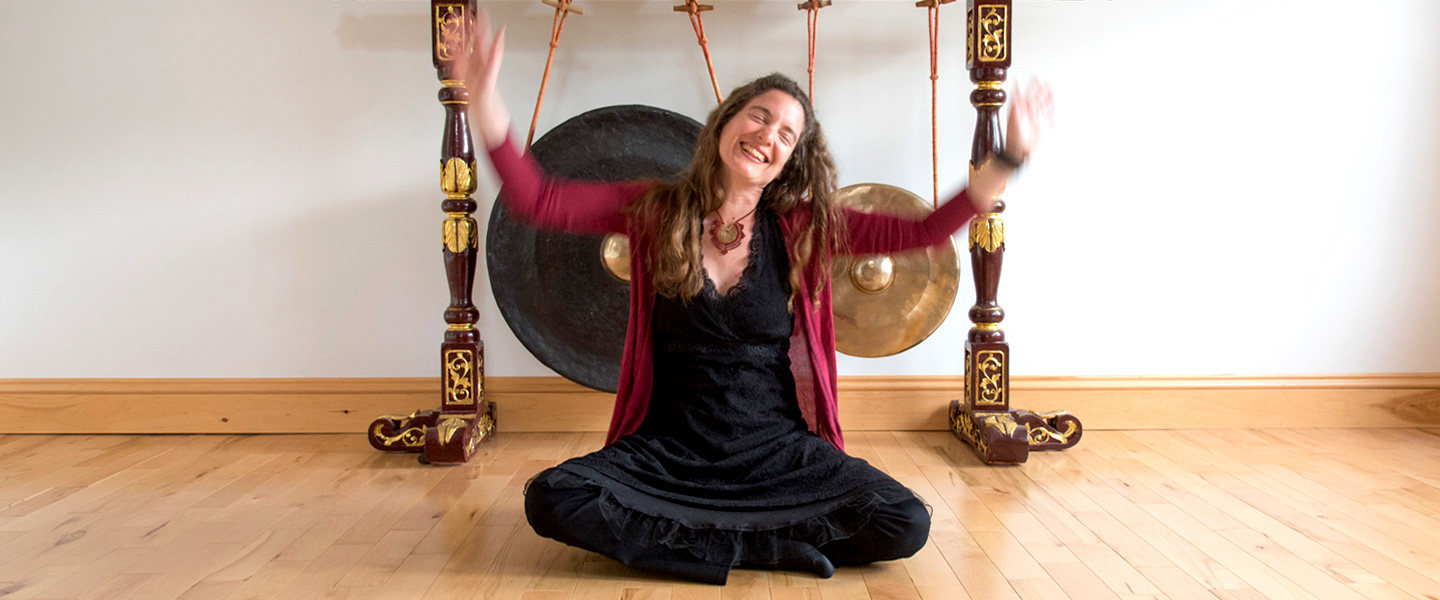 Hi. I'm Heidi Kalyani.
I am a seeker of the more beautiful world my heart knows is possible, as well as an artist, musician, yogi, meditator, facilitator and guide.
I'm passionate about creating spaces and practices where we can hear our own hearts. Where we can be present for ourselves and others with openness, curiosity, flexibility and warmth. Where we are welcome just as we are — with all of our imperfections, challenges, old stories AND radiant joys and passions. And where we can nourish courage, compassion, connection and intention so we can take action to create the lives we want to live.
My journey on this path started when I was nine in the backseat of long moon-lit car rides, and on a wooden swing hanging from a backyard tree. My heart was longing for connection, beauty, tenderness and compassion. I wanted to be less affected by societal, cultural and familial conditioning, and the limits of other people's comfort zones. I knew that as Pema Chödrön says, "Each day, we're given many opportunities to open up or shut down," and I wanted to immerse myself in tools and practices that would help me live with an open heart!
Over the years I have continued my studies and daily practice of mindfulness and wholehearted living, developed practices for holding space (for myself, others and the world around me), and guided multiple forms of solo and collective meditation experiences (sacred sound journeys, yoga nidra, kirtan, mantra, sitting meditation, creative writing, dance, drumming, gamelan, and contemplative sonic immersions). Currently, I specialize in sharing the practices of holding space, yoga nidra meditation and sacred sound journeys.
I live in a small house with lots of sunlight in rural Nova Scotia, Canada.


PASSIONS
Holding space, meditating, deep listening, sipping spicy herbal tea, cooking, walking and hiking, singing, dancing, visioning and creating, sitting cross-legged in silence or with an instrument in my arms, day-dreaming near gurgling streams, eating steamy vegetarian thali
CLOSE CONNECTIONS
Friends, partner, cats, musical instruments, stuffed bears and bunnies, tea, trees and flowers, soft beautiful scarves
FAVOURITE PLACES
My house, my studio, long hiking trails, sunny rooms, meditation gatherings, soft grass under shady trees
HEARTFELT DESIRE
To cultivate connection, compassion and creativity.
To create the more beautiful world my heart knows is possible
MOST USED TOOLS
Holding space, mindfulness, meditation, empathy, emotional intelligence, psychological flexibility, facilitation, sound yoga, singing/chanting, community music-making, heart-based inspired action
RECENT TRAINING
Mindfulness Program Facilitator Certification; Mindfulness Without Boarders
iRest Yoga Nidra Meditation Teacher Training; Yoga International
ACT/Mindfulness; Russ Harris
Circle of Trust; Center for Courage and Renewal
Mindful Life; Schumacher College
Mindfulness Fundamentals; Mindful Schools
Sound Yoga; Naada Yoga Montreal
Bhakti Heart Fire Kirtan Academy; DevaTree
Sacred Sound Facilitation Training; Mystical Embodiment
Gamelan training in Canada, the UK and Indonesia; various teachers and programs
MORE ABOUT HEIDI
www.hpkalyani.com